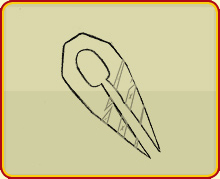 S

ewing Shears
Diana is a seamstress in our story - a seamstress makes clothes and so she would need a pair of shears for cutting cloth.
We based the design we used on Roman medical shears because many examples like these have been found. They are described as 'a shear' rather than scissors because the fulcrum, the point at which the cutters move, was at the end rather than at the middle. So they would have sprung back open after being released. They might have been made in bronze but it's a soft metal and so wouldn't have kept a sharp edge long enough to be as precise as modern scissors. The archaeological evidence shows that they were made in many sizes for different jobs.
Click the picture to see a larger version - you might want to save it or print it too!